10 results for
Storage Solutions in UAE
About Storage Solutions
Storage Solutions in UAE
If you are looking for safe, reliable and affordable storage space, you are at the right to explore a list of storage solution providers near you. Get a customised quote on a flexible storage solution at cutthroat rates. Whether you are looking for extra storage space, relocating or undertaking renovation works, contact the list of verified storage solution providers in UAE.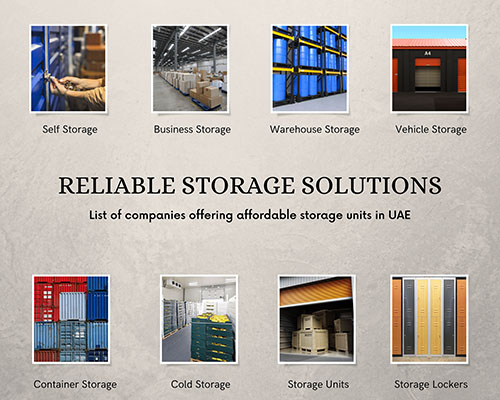 Storage soutions Dubai
Storage solutions are in use for various reasons. Some of them are below
Commercial storage solutions
Every business will need space to store expensive and huge stocks of goods. Listed service providers have self-storage units with flexible storage options at an affordable rate. They even store documents for offices.
Self-storage space
Storage providers offer secure self-storage space with individual units alarmed with Pincode access. Every storage unit is under surveillance and monitored 24/7. Important document deliveries are accepted and secured on your behalf.
Container storage
Container storage is secured for heavy machinery to protect any type of plant or heavy machinery. They offer containers up to 40ft tall to accommodate any type of large machinery used in construction.
Personal storage
While renovating or moving home, there is usually a large amount of garbage and decluttering storage. So to handle them one can book personal storage space to find a temporary space for furniture, hobby storage etc.
Business Storage
Client handling business and looking for clean, dry and secure units to pile up their stock can book customised storage units that are ideal for business needs.
Vehicle Storage
Vehicle storage with long-time parking and caravan storage options are available with the listed storage solution providers. They even offer free pick-up and drop for a limited period.
4 simple steps to book your self-storage space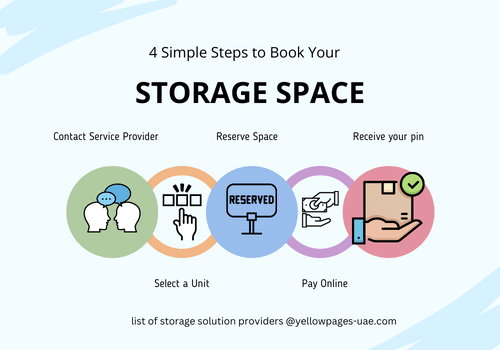 Storage Units Price in UAE
10 Square feet locker: AED 300 with a volume of 1 cubic meter
20 Square feet locker: AED 550 with a volume of 5 cubic meters
30 Square feet locker: AED 650 with a volume of 6 cubic meters
40 Square feet locker: AED 750 with a volume of 8 cubic meters
50 Square feet locker: AED 850 with a volume of 12 cubic meters
60 Square feet locker: AED 950 with a volume of 13 cubic meters
80 Square feet locker: AED 1200 with a volume of 18 cubic meters
90 Square feet locker: AED 1300 with a volume of 23 cubic meters
100 Square feet locker: AED 1400 with a volume of 24 cubic meters
120 Square feet locker: AED 1600 with a volume of 26 cubic meters
140 Square feet locker: AED 1800 with a volume of 35 cubic meters
160 Square feet locker: AED 1900 with a volume of 40 cubic meters

Benefits of Storage Space
Private rooms with CCTV monitoring
Guaranteed affordable price
24/7 security service
Short & long-term contracts with no hidden charges
Climate-controlled units are available
Book any type of customised storage size
Special protection goods are stored separately with utmost care