3 results for
Chemical Toilets in UAE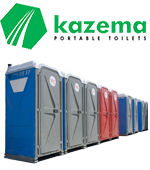 About Chemical Toilets
Chemical toilets or portable toilets are lavatories which are commonly used in construction sites, public functions, highway rest stops, campsites and other common areas. These latrines are mounted on a small tank which collects human excreta. Contents of this tank must be emptied periodically. The tanks are not directly connected to the sewer systems or septic tanks. The contents of the rank are emptied into huge landfills or into sewage treatment plants. Setting up a chemical latrine involves initial expenditure but are easier to maintain. Portable latrines are equipped with a self-cleaning fluid which comprises of formaldehyde in liquid form. Formaldehyde is a non corrosive fluid which acts as an effective cleaning agent and a natural deodorizing agent. This chemical repels toxic disease-causing germs and bacteria.
The most basic type of portable lavatory is bucket and chuck it. This latrine is for one-time usage, they are very easy to use, cheap and are commonly used at campsites. Potty range types of chemical toilets comprise of a combined flush-water tank and toilet tank equipped with a detachable seat bowl where the lower section holds the waste. These sections are detachable enabling easier waste disposal. Caravans with built-in washrooms are equipped with these types of toilets. These toilets comprise of a swivel bowl and the flushing unit is electrically powered by an external battery. Some modern portable latrines are equipped with sensors which detect pressure exerted on the toilet seat and initiates flushing mechanism automatically as the pressure subsides. 'Bucket and chuck it' types of lavatories come in different types. Most common types are the ceramic bowl, wooden type, and porcelain type latrines.
Using chemical toilets reduce maintenance costs as compared to conventional toilets. Utmost care must be taken in cleaning portable lavatories as they are sensitive to corrosive cleaning agents. It is advisable to use environment-friendly chemicals to clean the toilets. Water needs to be added to the chemical toilet flush tank in a careful manner. The toilet tank needs to be separated by unlatching the white plastic clips on the left and right side of the toilet and tilted away from the top and bottom sections accordingly. The toilet top needs to be attached near a garden hose to fill the tank. You need to replace the plastic cap frequently and re-latch the two side clips to secure the components together. The chemical toilet must be cleaned periodically if the toilet bottom reservoir tank gets full or the toilet is not in use for a long period of time. Chemical toilet contractors add toilet deodorants and disinfectants through the reservoir base opening, they pull the T lever to empty water or waste to the bottom of the reservoir. They perform different types of cleaning services and carry the portable toilet waste and dispose of it in the dumping station. Chemical toilets can be found in recreational vehicles, remote cabins, boats and other similar areas. A chemical toilet acts as a restroom for people who are not near a traditional bathroom. They can be tied up near a sealable storage tank so that they can be used continuously. Some popular locations to find retailers who sell chemical toilets in UAE are in flacon towers located B1 Ajman, Deira, Sheikh Zayed road, Hamdan Steet, Al Quoz Industrial area, Al Aweer, Al Barsha, Khiladiya, Umm Ramool, Ras Al Khor and Bur Dubai.