13 results for
Cubicle Toilets in UAE
About Cubicle Toilets
Cubicle Toilets in UAE
Restaurants, shopping complexes, malls, and public restrooms in hotels have a row of toilet cubicles. They give the finest look and function seamlessly. They give a sleek look apart from easy maintenance. There are many types of materials used for designing toilet cubicles. One of the most prominent toilet cubicle materials is HPL (High-Pressure Laminate). Listed here with us are the top high-pressure laminate toilet cubicle suppliers in UAE. They understand the need of every business and custom design the cubicles that best suit the client's budget. The toilet cubicle design for a commercial building space is different from a gym toilet. They design considering the functionality and design accessories like shower and water intensity.
Cubicle Toilet Features
They supply commercial toilets with a standard width of 80mm wide and 450mm diameter. They also custom design as per the client's requirements.
The purchase cost and installation cost of the cubicle toilet depend on the cubicle packs and the type of material used.
The standard size of the shower cubicle is 2000*1000mm
Melamine-Faced Chipboard(MFC), High-Pressure Laminate(HPL) and Solid Grade Laminate are the three most popular cubicle toilet materials.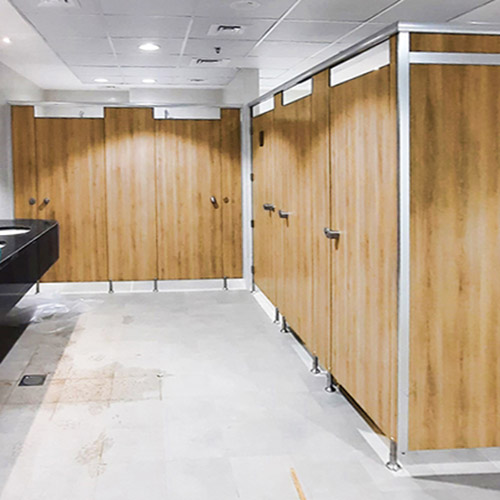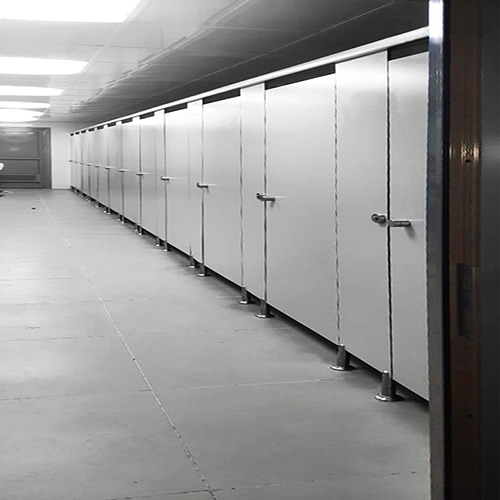 HPL Cubicle Toilets
High-Pressure Laminate sheets are decorative sheets for toilet cubicles with features like water-resistant, impact-resistant and fire-resistant. HPL cubicle toilets are economical and durable. They are available in a range of attractive colours, patterns and textures. HPL is nothing but a composition of Kraft paper and phenolic resin. The surface has a smooth glossy finish, is totally hygienic and resistant to water, heat, chemicals and cigarette burns etc.
HPL Cubicle toilet budget specifications
Specifications
Door: 18mm High-pressure laminate with 2mm abs edging
Partitions: 18mm High-pressure laminate with 2mm abs edging
Pilasters: 18mm High-pressure laminate with 2mm abs edging
Hardware: Nylon hardware fittings – wall channels, hinge channels, H-sections, adjustable leg, Pilaster lock and hinges.
Color options
Door colours: Green, Wood, Turquoise, Grey, White
Partitions/Pilasters: White, Steel

Size guide
Overall Height: 2000mm (150mm from floor)
Partition Square Height: 1800mm (2 pieces)
Partition Depth: 1800mm maximum
Pilaster Height: 1850mm
End/Wall Pilaster Width: 120mm Centre
Pilaster Width: 200mm & 300mm
Door Width: 900mm maximum
Door Height: 1800mm