47 results for
Bathroom Fittings in UAE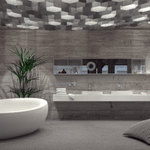 Get a wide variety of bathroom fixtures and accessories from top-notch manufacturers. They offer a range of products including shower drains and adapters, toothbrush holders, soap dispensers, toilet brush sets, shower trays, toilet paper holders, towel rails, towel hooks, transparent glass shower sliding doors, handheld showerheads, corner brackets, rain shower holders, and numerous other items.
About Bathroom Fittings
Bathroom fittings - Toilet seats, Wall cabinets, Bathroom accessories, Mirrors
Bathroom fittings are extra elements in addition to the permanent fixtures. Some of the bathroom fittings include toilet seats, wall cabinets, bathroom accessories, ceiling lights and mirrors. Bathroom fittings are generally made up of metal and add a touch of luxury to the home. All the kitchen and sanitary installations are customised as per the client's requirements. One of the main focal points of the bathroom is the bathtub. It adds luxury to the space. Listed bathroom fitting suppliers stock a wide range of taps, toilets, bathtubs, shower cubicles, walk-in-tubs, wet rooms, flooring, tiling, painting and decorating, plumbing and electrics.
Cost to install bathroom vanity
Bath vanity installation cost varies based on the bathroom size, design and product. Generally, the range is from basic to luxury bathroom types. Choosing the right sink for your bathroom needs a few things to note like material, size, shape and the mount. Taps and toilet seats with soft hinges are more hygienic and quieter. Get the best quote on bathroom fittings from the listed dealers.
Bathroom Fittings in UAE
There is significantly more utilization of a restroom apart from washing hands, bathing, washing and putting away the washroom embellishments and supplies. Some basic restroom installations incorporate a bidet, shower, bath and other washroom fittings like a bidet, stockpiling racks and dressing cupboards.
Guest Bathroom/Powder Room/Utility Bathroom
There are multiple options available in the market as options but trying them individually and knowing their benefits is tiring. Here we have a list of bathroom fittings suppliers who stocks a list of bathroom fixtures with rates to consider the best option for your space. They have a wide range of faucets, showers, sanitaryware, water heaters, and cisterns. Everyone deserves an inviting bathroom, no matter how small or huge the space is. Bathroom fittings and accessories suppliers listed here are the authorized suppliers of branded bathroom fixtures covering a wide range of design options.
Popular Bathroom Fittings Brands in Dubai
Below are some of the popular brands of bathroom fittings. They are the best high-quality bathroom fitting manufacturers that combine beauty, style and comfort at an affordable price. Every brand is involved in manufacturing a range of bathroom accessories like water heaters, shower sets, and a combo of allied bathroom accessories.
Grohe Bathroom Fittings
Grohe is one of the well-renowned cost-effective brands with exceptional designs. They have great designs that compliment your bathroom interiors. The water pressure of the faucets is high and reliable. Grohe Shower Rail Set dimensions: 67.3*14.7*7.6cm weighing 1.24Kgs
Chrome coating makes cleaning easy and simple
Contains flexible silicon nozzles.
Milano Shower Cubicle/ Shattaf Set
Best-in-class shower cubicles with high-end tempered glass material ideal for a relaxing and soothing shower are available with the Milano shower cubicle. Dimension: L90*W90*H200Cm
RAK Ceramics
RAK Ceramics supplies almost every bathroom accessory like a shower head, shower controls, soap holder, soap sponge holders, towel bar, curtain rod, vertical grab bars, bath spout, etc.
Sonet Washbasins
Superior quality wall-hung washbasins with a unique and comprehensive portfolio are available with Sonet. Dimension: 47*29*15cm