229 results for
Pumps in UAE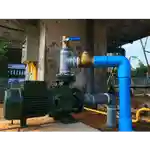 List of pump suppliers in UAE
List of pump suppliers in UAE dealing with specialist pumps, high head pumps, hydraulic pumps, submersible pumps, electric diaphragm pumps made out of cast steel, cast iron, stainless steel, aluminium alloy, engineering plastics, fluorine plastics, fluorine lined, Teflon and many more. Contact the pump suppliers below for competitive prices.
Opar Trading
Products & Services :
Pumps
,
Water Pumps Maintenance and Service
,
Sound Proof Pipes and Fittings
,
Booster Pumps
,
Water Heaters
, CPVC Pipes, Pipe Fittings, PPR Pipes, Pipes and Pipe Fittings, Pressure Vessels, Submersible Pumps, Sound Proof Pipes, HDPE Pipe, Solar Water Heaters, Water Pumps, PVC Pipes, Pipes, HDPE Pipes and Fittings, Upvc Pipes And Fittings, Hot Water Circulation Pumps
Read More...
Stylish Building Materials
Products & Services :
Pumps
,
Access Panel
,
Sanitary Ware Suppliers
,
Pressure Gauges
,
Tools
, Pvc Pipes And Fittings, Bolts and Nuts, Fasteners, Gypsum Boards, Wooden Doors, Fire Rated Doors, Lighting Fixtures Suppliers, Switches, Paints, Fans Exhaust, AC Grill, Shower Sets, Flexible Ducts, Grinding Wheels, Cutting Discs, Safety Jacket, Reinforced Garden Hose, Tiles, Hoses, Shelving And Racking, Hinges, Safety Shoes, MS Angle, Glass Door Fittings, Glass and Mirror Dealers, GI Stud and Track, Mixer Tape, Steel Angles, Hand Saws, WC Flush Fittings, Drilling Machine, Safety Hand Gloves, Tile Trims, Door Handles, Knobs and Handles, Drill Bits, Countertop Basins, Glass Doors, Bathroom Accessories, Ceramic Tiles Manufacturers, Locks
Read More...
Arabian Equipment Rental LLC
Products & Services :
Pumps
,
Generators
,
Equipment Rental
,
Traffic Management
,
Liquid Storage Solutions
, Equipment Hiring, Land Drying Works, Oil and Gas Onshore Services, Construction Equipment, Dewatering Pumps, Dewatering Pumps Rental, Pumps Rental, Ground Water Control, Dewatering
Read More...

Flowline
Products & Services :
Pumps
,
Flow Meters
,
Level Switches
,
Oilfield Equipment
,
Tank Alarms
, Leak Detection Systems, Hose Reels, Fire Valve, Fill Point Cabinets, Fuel Level Switches, HDPE Pipes, Steel Fabricators and Engineers, Fuel Tanker Fittings, Filters, Overfill Alarms, Instrumentation, Emergency Vents, Tank Manufacturers, Fuel Tank Manufacturers, Fuel Filters, Strainers, Fuel Tanks, Tank Management Systems, Flame Arrestors, Fuel Dispenser, Generator Fuel Tank Level Gauge, Fuel Level Indicators, Double Wall Fuel Storage Tanks, Double Wall Tanks, Sensors, Fuel Pumps, Storage Tanks, Fuel Management Systems, Fuel Systems, Fuel Handling Equipment, Steel Fabricators, Stainless Steel Fabricators
Read More...
Standard Technical Supply LLC
Products & Services :
Pumps
,
Oil Transfer Pumps
,
Drum Pump
,
Gear Pumps
,
Pumping Solution
, Lube Oil Pumps, Acid Pumps, Sludge Pumps, Waste Water Pumps, Dosing Pumps, Air Compressors, Compressors, Chemical Injection Pumps, Progressive Cavity Pumps, Vacuum Pumps, Fuel Pumps, Blowers, Diaphragm Pumps, Water Pumps, Chemical Pumps, Submersible Pumps, Centrifugal Pumps, Electric Motors, Ship Spares
Read More...
AQMM General Trading LLC
Shakti Pumps FZE
Products & Services :
Pumps
,
Chilled Water Pumps
,
Pressure Booster Pumps
,
Centrifugal Pumps
,
Pump Manufacturers
, Solar Pumps, Submersible Pumps, Water Pumps, Dewatering Pumps, Sewage Pumps, De-watering Equipment and Services
Read More...
Falcon Pumps Trading LLC
Products & Services :
Pumps
,
Water Filtration Systems
,
Pumps Repairs
,
Water Chillers
,
Water Softeners
, Solar Water Heater Maintenance, Water Cooling Systems, Water Tanks, Solar Water Heaters, Water Pumps, GRP Panel Tanks
Read More...
A Alico Ltd
Products & Services :
Pumps
,
Building Materials
,
Hardware
,
Power Tools
,
Industrial Equipment
, Abrasives, Hydraulic Equipment, Air Compressors, Welding Equipment, Garage Equipment, Safety Equipment
Read More...
Al Meena Water Pumps
Aqualine General Trading LLC
Technology Ventures Middle East LLC
Master Mechanical Equipment LLC
Products & Services :
Pumps
,
Pressure Gauges
,
Solenoid Valves
,
Hydraulic Hoses And Fittings
,
Hydraulic Seals
, Valves, Hydraulic Equipment Tools And Supplies, Mechanical Seals, Pneumatic Equipment, Couplings, Bearings, Hoses, Fittings, Pulley and Taper Locks, Pneumatic Filters Regulator and Lubricants, Pneumatic Cylinders and Valves, Gas Springs and Accessories, Universal Joints, Rubber Sheets and Gasket Sheets, Polyurethane Tubes, Hydraulic Fittings, FRL Units, Piston Seals, Hydraulic Equipment, Sandwich Belt, Shim Ss, Silicon Hose, Slim Cylinder, Sprockets And Chains, Stainless Steel Tube, Standard Cylinder, Steam Hose, Steam Traps, Steam Valves, Steel Ball, Steel Cover Hose, Steel Tube, Storz Coupling, Strips, Suction Filter, Taper Lock, Taper Lock Pulley, Teflon Hose, Teflon Rod, Teflon Sheet, Teflon Tube, Temperature Controller, Temperature Pressure Transmitter, Test Point Adaptor, Test Point Hose, Throttle Check Valve, Tube Clamp, Tyre Coupling And Element, Universal Hose Joint, V Ring, Vacuum Gauge, Victaulic Coupling And Washer, Viton O Ring, Water Pump Bearing, Wave Washer, Wind Plug, Wing Nut Coupling, Wooden Coupling And Element, Actuators, Battery Cut Off Switches, Absolute Pressure Transmitter, Accumulators, Acrylic Tube, Actuator With Valves, Air Breather, Air Hose, Air Intake Shutdown Valve, Air Vent, Angular Contact Ball Bearings, Asbestos Sheet, Auto Drainer, Automatic Spray Mist Lubrication Pump, Backup Ring, Ball Bearing, Ball Joint, Ball Valves, Battery Isolator, Battery On Off, Cable Chain Pvc, Camlock, Cartridge Valves, Chevron Seals, Cooling Fan, Coupling Element, Cylindrical Roller Bearings, Diesel Flow Meter, Digital Temperature Gauge, Duct Hose, Electrical Actuator, Filters, Flow Control Valves, Fuel Flow Meter, Gear Flex Couplings, Hose Couplings and Fittings, Hoses And Fittings, Hydraulic Components, Hydraulic Cylinders, Hydraulic Equipment And Tools, Hydraulic Flow Control Valves, Hydraulic Hoses, Hydraulic Motors, Hydraulic Pumps, Hydraulic Solenoid Valves, Industrial Hoses And Hose Clamps, Layflat Hose, Level Indicators, Level Switches, Level Transmitters, Manifolds, Motor Cooling Fan, Multi Purpose Hose, Needle Roller Bearings, Nylon Reinforced Hose, O Rings Viton, Oilfield Suppliers, Oil Level Indicators, Oil Seals Viton, Oil Suction Hose, Petrol Suction Hose, Pneumatic Actuators, Pneumatic Components, Pneumatic Fittings, Pneumatic Lubricants, Pneumatic Regulators, Pneumatic Seals, Pneumatic Solenoid Valves, Pneumatic Tubes And Fittings, Pneumatic Valves, Pressure Transmitter, Quick Coupling, Radiator Hoses, Rigid Couplings, Roller Bearings, Rubber Coupling, Seals, Sensors, Shutdown Valves, Solenoid Coil, Solenoid Operated Directional Valves, Spark Arrestor, Spherical Roller Bearings, Strut, Tapered Roller Bearings, Temperature Gauges, Temperature Sensors, Thermometers, Thrust Ball Bearings, Thrust Cylindrical Bearing, Timing Belt, Transparent Reinforced Hose, Tyre Flex Couplings, V Belts, Vee Pack Seal, Water Flow Meter, Water Pump Seals, Water Suction Hose, Winches, Wiper Seal, Bimetal Temperature Gauge, Capillary Thermometer, Centralized Lubrication System, Chicago Coupling, Circlip, Concrete Hose, Constant Lever Oiler, Copper Tube, Cork Sheets, Diaphragm, Differential Flow Meter, Differential Pressure Gauge, Differential Pressure Switch, Differential Pressure Transmitter, Digital Pressure Level Transmitter, Directional Valve, Double Bolt Clamp, Dowty Washer, Electrical Winches, Electronic Pressure Switch, Element And Coupling, Exhaust Pipe, Fcl, Felt, Filter Regulator, Flow Switch, Gas Strut, Gear, Glass Tube, Grease, Grease Gun, Grease Nipple And Coupler, Guide Ring, Hammer Unions, Hand Control Valve, Hand Cracked Pumps, Hand Press Pumps, Heater Hose, Hose Clamps, Hose Coupling, Hose Mender, Hump Hose, Hydraulic Accumulators, Hydraulic Actuator, Hydraulic Air Breather, Hydraulic Cartridge Valve, Hydraulic Jacks, Hydraulic Quick Coupling, Hydraulic Strip, Hydraulic Suction Filter, Hydraulic Wing Nut Coupling, Impellers, Interlock Flexible Hose, Interlock Hose, Level Gauges, Lovejoy Coupling And Elements, Lubricator, Manual Actuator, Manual Grease Pump, Manually Operated Directional Valve, Metal Wiper Seal, Miniature Coupling, Motor Oil Pressure Sensor, MS Tubes, Needle Valve, Nylon Rod, Nylon Sheet, Nylon Tube, O Ring Cords, O Rings, Oil Breather, Oil Level Gauges, Peristaltic Pump, Pneumatic Actuator With Valves, Pneumatic Oil Pump, Pressure Level Transmitter, Pressure Switches, Pu Duct Hose, Pu Tube, Quick Exhaust Valve, Rain Cap, Regulator Pneumatic, Reinforced Hose, Ribbed Belt, Ro Pumps, Rod Seal, Roller Chain, Rubber Mounting, Hydraulic Valves, Industrial Hoses, O Rings Rubber, Hydraulic Hose Assembly, Oil Seal, Chalwyn Valve, Expansion Bellows, Roller Chain And Sprockets, Rubber Sheets, Safety Relief Valves, Flow Meters, Gas Springs, Gland Packing, Hydraulic Directional Control Valves, Industrial Belts, Motor Couplings And Elements, Oil Indicators, Pneumatic Filters, Anti Vibration Mountings, Gasket Sheets, Pneumatic Cylinder, Pneumatic Tools And Equipment, Hydraulic Tools, Proportional Valves, Pulleys, Sprockets, Check Valves, Chemical Hose, Deep Groove Ball Bearings, Element, End Cap, Belts Industrial and Automotive, De-watering Equipment and Services, Hydraulic Equipment and Tools, Hydraulic Equipment-Tools and Supplies, O Ring Seals, Oil Seals, Oilfield Supplies, Piling Equipment and Tools, Pneumatic Tools and Equipment
Read More...
Rubaiya Zueaid Building Materials Company LLC
Products & Services :
Pumps
,
Valves
,
Building Material Suppliers
,
Sanitary Ware
,
PVC Pipes and Pipe Fittings
, Plumbing Fixtures, GI Fittings and MI Fittings, Actuator with Valves, Flanges, Crane Valves, PVC Flexible Hoses, Ppr Pipes And Fittings, Building Materials, Hardware, Pipes and Pipe Fittings, Plumbing Fixtures and Supplies, Pvc Pipes And Fittings, Sanitary Ware Suppliers
Read More...
DXB Solutions LLC
Products & Services :
Pumps
,
Solar Energy Equipment
,
Solar Energy Equipment Suppliers
,
Solar Energy Equipment and Supplies
,
Water Pumps
, Water Pumps for Solar, Water Chillers, Hot Water Circulation, Pressure Vessels, Submersible Pumps, Booster Pumps, Solar Water Heaters, GRP Tanks, Panel Tanks, GRP Panel Tanks, Pumps Repairs
Read More...
Al Mahrain Building Materials Trading Company LLC
Products & Services :
Pumps
,
Water Pumps
,
Solar Water Heaters
,
Booster Pumps
,
Submersible Pumps
, Chilled Water Pumps, Sewage and Drainage Pumps, Valves Suppliers, Valves, Control Panels, Water Cooling Systems, Motor Rewinding Services, Pumps Traders, Water Pump AMC, PEX Piping, PEX Pipes and Fittings, Pipe and Pipe Fitting Suppliers, GRP Water Tanks, Water Heaters, Water Heater Supplier, Building Materials, Electrical Traders, AC Parts, Air Condition Spare Parts, Hardware, Adhesives, Masking Tapes, Tools, Manhole Covers, Safety Items, Silicon Sealants, Cables, Cable Trays, Lugs, WC Tank Fittings, Grooved Fittings, Water Heaters Suppliers
Read More...
Magic Building Material Trading LLC
Products & Services :
Pumps
,
Pneumatic Tools
,
Power Tools
,
Switches
,
Tool Control Solutions
, Cable Trays, Cables And Wires, Hand Tools, PVC Conduits, Building Materials, Plumbing and Sanitary, Oilfield Supplies, Pipes and Pipe Fittings
Read More...
AlRaazia Building Materials Trading LLC
Office No. 308, 3rd Flr, Ascon House, Al Muteena
Dubai, UAE
04-5294301
Call
Products & Services :
Pumps
,
Plumbing Materials
,
PVC Conduit
,
Safety Equipment
,
Air Conditioning Equipment and Systems
, Switchgear, Armoured Cable, Floor Boxes, Isolators, Electrical Panels, Switch Sockets, Switches, Industrial Lighting, Cable Glands, Pvc Pipes And Fittings, LST Flexible Pipe, GI Conduits, Cables And Wires, Instrumentation Cable, Wiring Accessories, Building Materials, Access Control Systems, Sanitary Wares, Ear Protection, Eye Protection, PPE, PVC Conduits, Enclosures, Rubber Cable, Access Control Cables, Electric Motors
Read More...
Fluidtech Engineering LLC
Products & Services :
Pumps
,
Pipeline Flushing
,
Renting Pumps
,
Water Jetting Pumps
,
Hydro Demolition
, Hydrotest Pumps, High Pressure Water Jetting Pump, Water Blasting Machines, Marine Fire Pumps, Hydro-Demolition of Concrete, Centrifugal Water Transfer Pumps, Pump Rental Services, Dewatering Pumps, Hydro Blasting Pump, Water Jetting Pump Accessories
Read More...
Hotline Trading LLC
Products & Services :
Pumps
,
Electric Boilers
,
Steam Boilers
,
Surge Vessels
,
Suction Diffuser
, Burners, Chilled Water Buffer Tank, Basket Strainers, Air Separators, Indirect Heated Calorifier, Electric Water Heater, Heat Pumps, Plate Heat Exchangers, Valves, Calorifiers, Hot Water Boilers, Air Compressors, Solar System, Steam Generator, Air Receiver, Expansion Vessels, Compressors, Heat Exchangers, Heating Elements, Pressure Vessels Manufacturers, Solar Water Heaters, Water Heaters Suppliers
Read More...
Top Pumps Companies in uae
Opar Trading, Sharjah, Contact: 06-5389484
Stylish Building Materials, Abu Dhabi, Contact: 02-6416413
Arabian Equipment Rental LLC, Dubai, Contact: 04-5754633
Flowline, Sharjah, Contact: 06-5281400
Standard Technical Supply LLC, Dubai, Contact: 04-2807780
AQMM General Trading LLC, Dubai, Contact: 04-2249611
Shakti Pumps FZE, Sharjah, Contact: 06-5578028
Falcon Pumps Trading LLC, Ajman, Contact: 06-7799115
A Alico Ltd, Sharjah, Contact: 06-5422232
Al Meena Water Pumps, Dubai, Contact: 06-5462090
About Pumps
Pumps Suppliers in UAE
Pumps are machines that are operated manually or through electricity. They are machines that are used to move liquids. There are different kinds of pumps that are used for different purposes. The following are a few different kinds of pumps and their uses. Fire Pumps: A fire pump is a device that moves water through a sprinkler. The pumps are designed to draw water from an external or internal water source and force the water through a sprinkler efficiently to douse a fire. End Suction Pumps: one of the kinds of centrifugal pumps, an end suction pump is an ideal pump to use when the liquid that flows in the pump may be carrying certain solids.
This is why these pumps are preferred in industries like the paper and pulp industries, chemical industries, food, sugar and bioethanol industries. These pumps are mainly used for irrigation, water supply and for drainage purposes. Centrifugal pumps: The most common uses of a centrifugal pump are sewage, petrol and petrochemical pumping. There are more than two hundred companies in UAE that are currently manufacturing and providing all kinds of pumps for various industries. Umm Al Naar and Najda Street in Abu Dhabi and Jebel Ali in Dubai are the prominent places in UAE where customers can contact manufacturers or dealers and purchase pumps.
Centrifugal pumps and their applications

in various industries

Obtain high-quality pumps known for their exceptional performance from the premier pump suppliers in the UAE. We present here, a list of suppliers specializing in industrial, centrifugal and submersible pumps. These pumps play a crucial role in converting electrical power into usable energy, resulting in the displacement of water.

Explore our extensive range of pumping solutions tailored to meet the specific needs of the oil and gas industry. Within this sector, pumps serve various vital functions, including the transportation of crude oil, injection processes, fire suppression, seawater elevation, multiphase handling and auxiliary support.

The petrochemical industry relies on an array of pumps for its operations. These include process pumps, booster pumps, cooling water pumps, and low-pressure auxiliary pumps. Each of these pumps contributes to the efficient functioning of petrochemical processes, ensuring productivity and reliability.
Details of
diaphragm pumps and their design
The diaphragm pump stands out as the most versatile option available in the market. Its design incorporates two pumps working in tandem to facilitate the movement of liquid within the pumping system. Valve balls play a crucial role in guiding the liquid in the correct direction. With each pumping cycle, the pressure on the back of the discharging diaphragm remains equal to the head pressure on the liquid side.
Notable Features and Advantages:
User-Friendly Operation: It can be operated easily without the need for a guarding device, simplifying usage.
Flexible and Easily Adjustable Flow Control: Users can effortlessly adjust and fine-tune the flow as per their requirements.
Self-Priming Capability: The pump can self-prime up to 5 meters, enhancing its usability in various applications.
Explosion-Proof Version: It offers an explosion-proof version that operates independently of electricity, ensuring safety in hazardous environments.
Wide Working Pressure Range: With a broad range of working pressures, it accommodates diverse industrial needs.
Cost-Effective Maintenance: The diaphragm pump incurs low maintenance costs and minimal downtime, maximizing efficiency.
Operation Against Closed Valve: It can efficiently operate even when faced with closed valves, offering versatility in usage scenarios.

Underwater power of submersible pumps
The listed suppliers offer a wide range of pumps suitable for diverse applications. Among the submersible pumps available are sump pumps, well pumps, sewage pumps, and piston pumps. These submersible pumps excel in handling various demanding underground tasks, efficiently transporting dirty water and particles with ease.
Contact Us
Typically replies within 24 hour
×